MEMBERS OF THE CURRENT BOARD
Gauteng Gambling Board effective from 01 October 2018 to 30 September 2021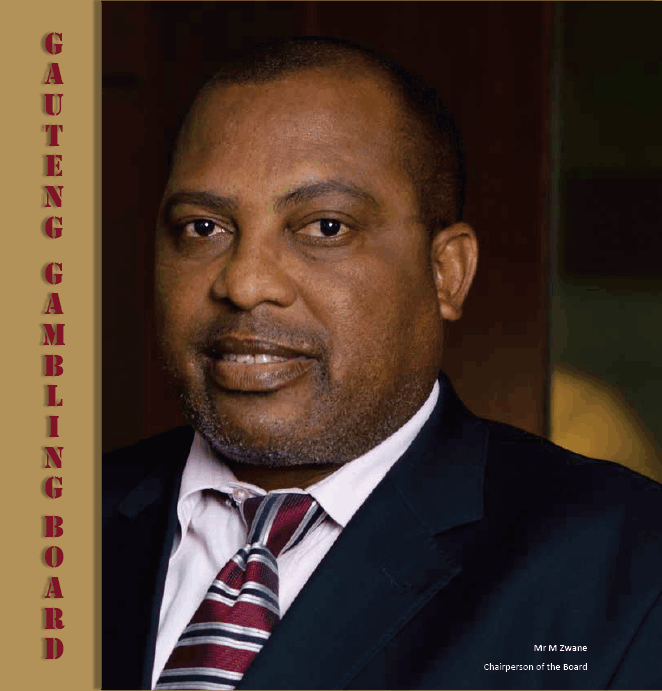 Mr Mxolisi Zwane
CHAIRPERSON OF THE BOARD
QUALIFICATIONS
B.Proc – Wits University (1993); Master of Laws (LLM) in Fundamental Rights and Constitutional Law and Practice – University of Pretoria (2006); Higher Diploma in Company Law – Wits University (2000); Advanced Diploma in Labour Law – University of Pretoria (2015).
In addition, Mr Zwane has several other qualifications behind his name. These include certificates in Arbitration, Insolvency and Business Rescue as well as Pension Law and Administration. As a member of the International Masters of Gaming Lawyers, he has also completed several short courses in gaming law, sports betting and online gaming with the International Centre for Gaming Regulators at the University of Nevada, Las Vegas (UNLV).

BOARD COMMITTEE MEMBERSHIP
Chairperson of the Technical Committee on Legal & Transformation Matters and Board Exco

APPOINTMENT DATE
01 October 2015 & reappointed on 01 October 2018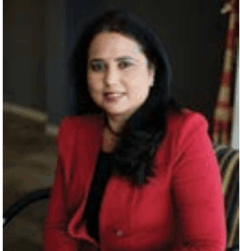 Ms Shaila Hari
DEPUTY CHAIRPERSON
QUALIFICATIONS
Honours Bachelor of Accounting Science : BCompt Honours at UNISA; Public Sector Governance at UNISA SBL; Articles with PWC; Member of the Institute of Directors

BOARD COMMITTEE MEMBERSHIP
Chairperson of the Gaming Committee. Member of the Technical Committee on Legal &
Transformation Matters & Board Exco

APPOINTMENT DATE
10 June 2013 and reappointed on 01 October 2015 and on 01 October 2018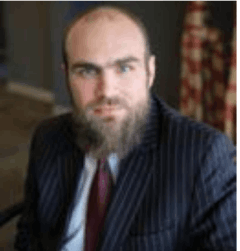 Mr Leon Marincowitz
BOARD Member
QUALIFICATIONS
B.A General (UP), B.A Honours in Philosophy (UP), Masters in Philosophy (UJ)
BOARD COMMITTEE MEMBERSHIP
Chairperson of the Corporate Committee. Member of the Social Ethics and Responsible
Gambling Committee, Technical Committee on Legal & Transformation Matters and
Board Exco
APPOINTMENT DATE
01 October 2015 and reappointed on 01 October 2018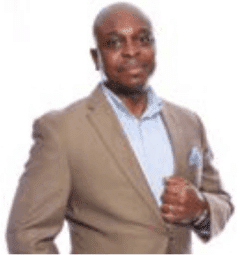 Mr Thulani Sithole
Board Member
QUALIFICATIONS
B.Comm (UND); HDIPTAX (RAU), B.Comm (Hons) (UP Tukkies), Leadership Development Program (GIBS), M.Comm (UNW): Course work done, Dissertation in progress

BOARD COMMITTEE MEMBERSHIP
Chairperson of the Social, Ethics and Responsible Gambling Committee. Member of the Audit & Risk Committee and Board Exco

APPOINTMENT DATE
01 October 2015 and reappointed on 01 October 2018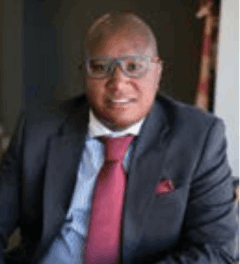 Mr Pholoso Matjele
BOARD MEMBER
QUALIFICATIONS
Master's in Business Administration (MBA) from Regenesys School of Business. BComm Degree in Marketing & Business Management from Damelin, Postgraduate Diploma in Advanced Business Management from the University of Johannesburg, Certificate in Investment & Finance from the University of Witwatersrand and a Communications & Business Environment Certificate from the University of Natal. Media Certificate from Media & Training Centre.
He is currently enrolled for a PhD in Organizational Development & Leadership at UNISA

BOARD COMMITTEE MEMBERSHIP
Member of the Social, Ethics and Responsible Gambling Committee and Audit & Risk Committee

APPOINTMENT DATE
01 October 2018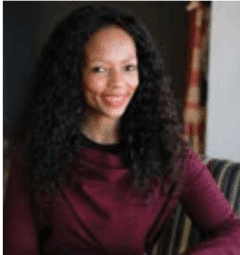 Ms Matsi Bonolo Modise
BOARD MEMBER
QUALIFICATIONS
Bachelor of Commerce Degree (Marketing and Advance Management) University of Witwatersrand

BOARD COMMITTEE MEMBERSHIP
Member of the Social, Ethics and Responsible Gambling Committee and Audit & Risk Committee

APPOINTMENT DATE
01 October 2018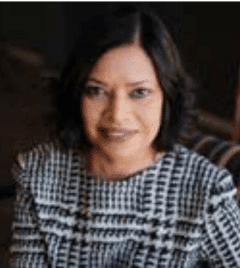 Ms Shoba Chiba
BOARD MEMBER
QUALIFICATIONS
BA Law – University of the Witwatersrand (WITS). Energy Law Diploma – WITS.
Accredited Mediator (University of Stellenbosch) and an International Commercial Mediator through the Centre for Effective Dispute Resolution (CEDR) (UK). Construction
Adjudication Programme through the University of Pretoria.

BOARD COMMITTEE MEMBERSHIP
Member of the Corporate Committee and Technical Committee on Legal & Transformation Matters

APPOINTMENT DATE
01 October 2018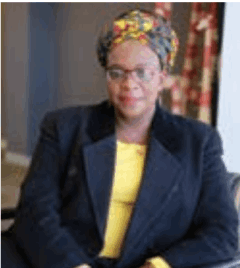 Ms Ntsoaki Tsokolibane
BOARD MEMBER
QUALIFICATIONS
Bcom (Honours) in Strategic Management (RAU), Advance Project Management Certificate (UNISA) Higher Diploma in Education (Postgraduate)

BOARD COMMITTEE MEMBERSHIP
Member of the Corporate Committee and Audit & Risk Committee

APPOINTMENT DATE
01 October 2018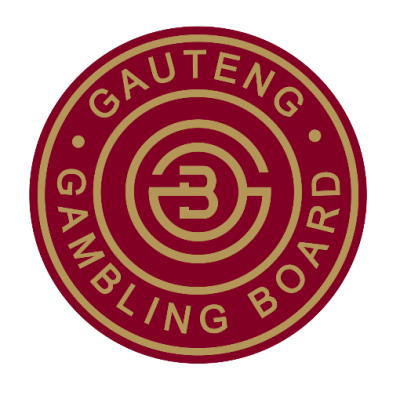 Ms Simthandile Siwisa
BOARD MEMBER
QUALIFICATIONS
MBA Degree – Emerging Markets (UCT). Degree in International Economic Management (Masters) – University of Birmingham

BOARD COMMITTEE MEMBERSHIP
Member of the Gaming Committee and Social, Ethics and Responsible Gambling Committee

APPOINTMENT DATE
01 October 2018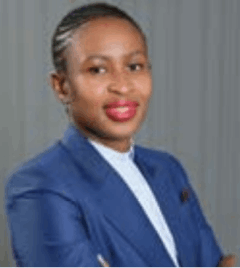 Ms Thabiso Kutumela
BOARD MEMBER
QUALIFICATIONS
B.Com (WITS), LLB (WITS), LLM (WITS), Certificates in Advanced Company Law (WITS), Certificate in Risk, Compliance and Governance (WITS), Certificate in Competition Law (WITS)

BOARD COMMITTEE MEMBERSHIP
Member of the Gaming Committee and the Technical Committee on Legal & Transformation Committee Matters

APPOINTMENT DATE
01 October 2018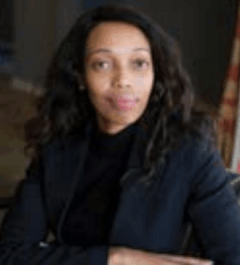 Ms Yondie Metu
BOARD MEMBER
QUALIFICATIONS
Chartered Accountant (SA) Bachelor of Accounting (UKZN) Bcom Honours (UKZN)
Graphic Design Certificate (UCT)

BOARD COMMITTEE MEMBERSHIP
Deputy Chairperson of the Risk & Audit Committee and member of the Gaming Committee

APPOINTMENT DATE
01 October 2018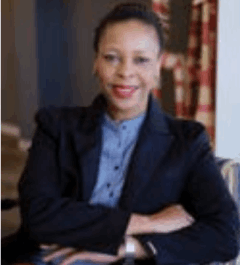 Ms Zandile Mpungose
BOARD MEMBER
QUALIFICATIONS
B.A Law (UDW) LLB (UDW) Certificate in Development Management for Community & Labour Studies (UDW) Diploma in Corporate Law (RAU) Masters in Commercial Law (UNISA).

BOARD COMMITTEE MEMBERSHIP
Member of the Corporate Committee and Technical Committee on Legal & Transformation Committee

APPOINTMENT DATE
01 October 2018
The Board is a statutory body established in terms of Section 3 of the Gauteng Gambling Act, No 4 of 1995, as amended, to exercise public power to regulate and control gambling activities in the Gauteng Province on behalf of the Gauteng Provincial Government. 
Considers , and adopt if appropriate, operating budgets and business plans proposed by management for the achievement of its strategic direction.
 Delegate authority for capital expenditure.
 Provide oversight of performance against targets and objectives.
Provide oversight of reporting on the direction, corporate governance and performance of the board.
Identify, consider and review key risk areas.
Ensure ethical behaviour and compliance with relevant laws and regulations, audit and accounting principles and the Boards internal governing documents and code of conduct.
 Act responsibly towards the Board's relevant stakeholders.
Be aware of, and commit to the underlying principles of good corporate governance and ensure that compliance with corporate governance principles is reviewed regularly.
The Board is the focal point of the corporate governance in the Gauteng Gambling Board. The Board is ultimately accountable and responsible for the performance and affairs of the Gauteng Gambling Board and ensuring that the Gauteng Gambling Board conducts itself as a responsible corporate citizen. 
The Board consists of between eight and twelve non-executive Board members who are experts in various fields. The Board Members' primary responsibilities are:
 Formulation of operational policy.
Overseeing the operations of the Board
Performs all functions of the Board during the periods between meetings of the Board
Consists of three members of the Board, the chief executive officer and the chief operating officer.
Audit and Risk
The purpose of the Audit and Risk committee is to assist the board in discharging its duties relating to the safeguarding of assets, the operation of adequate systems and control processes, the operation of adequate risk management processes and the review of the preparation of accurate and timely financial reports and statements by management in compliance with all applicable legal requirements and accounting standards.
Corporate
Executive
Gaming
Responsible Gambling
Social Ethics
125 Corlett Drive, 
Johannesburg, 2018
South Africa. 
© Copyright 2019 Gauteng Gambling Board- All Rights Reserved